Protect your family!
Reading time: 2 minute(s)
Share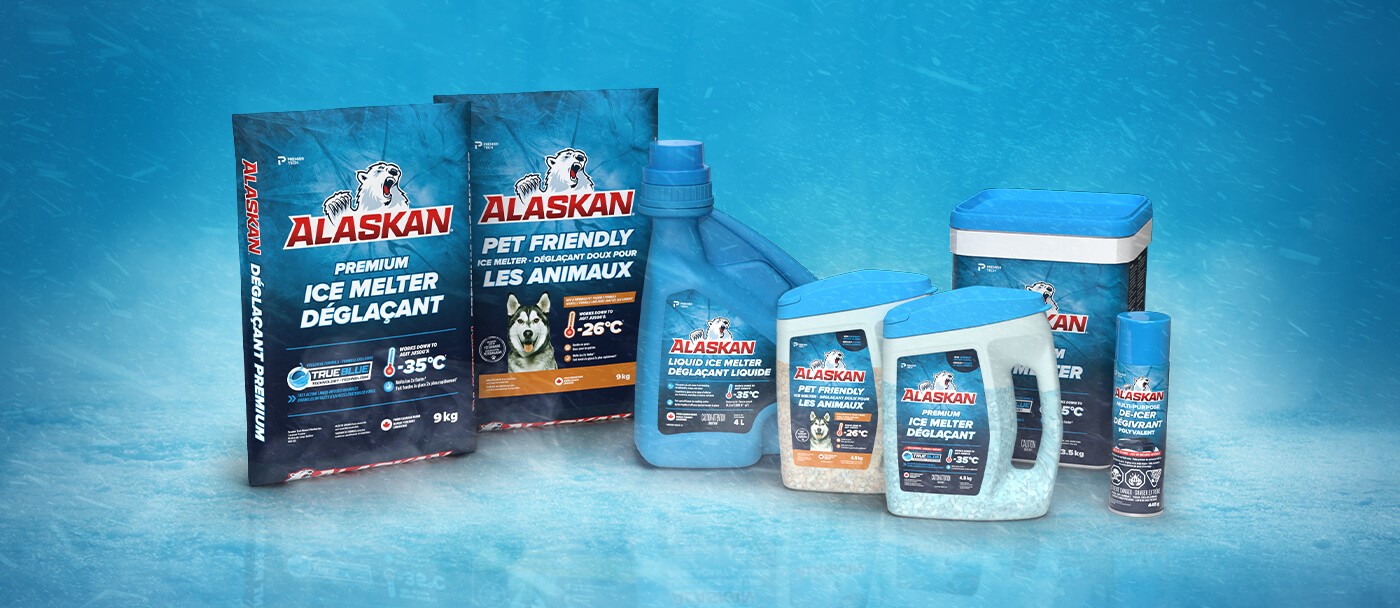 No matter what winter throws at you, our complete line of high-performance Alaskan Ice Melters will help protect your family, even under extreme conditions. 
Gentle on concrete, pets and vegetation when used as directed, Alaskan ice melters quickly cut into ice and snow. Some Alaskan® products are effective at temperatures as low as -35 °C.
If you're looking for products that offer both performance and unparalleled safety, grab some Alaskan ice melters this season!
Before the storm
Get ahead of the snowfall and apply ice melter before the flakes even reach the ground! Our Liquid Ice Melter can be used preventively if applied before a freezing rain event or snowfall, for instance. 
You can prevent ice from forming on concrete, steps, sidewalks and driveways by applying it up to 48 hours in advance. It's the fastest, most effective and most versatile option if you wish to melt ice and snow on an outdoor surface.
During the storm
In case you forgot to apply our Liquid or Premium Ice Melter before a snowfall, no problem! If there is more than 5 cm on the ground, make sure to remove the accumulation first, using a shovel or snowblower. Then, spread our Premium or Liquid Ice Melter.
After the storm
For better visibility, just spray Alaskan Multi-Purpose De-Icer on your windshield, wiper blades and side mirrors (and a lot more!) this winter.
Easy-to-use, this aerosol product melts frost, ice and snow in seconds, allowing you better visibility. It also prevents ice and snow build-ups. This product is effective at temperatures as low as -31 °C
Stop slips and falls
Effective to -35 °C, Alaskan Premium Ice Melter cuts through the ice and snow on the ground. It melts and breaks ice to create a safe walkway for your family and visitors. Its new TrueBlue™ formulation penetrates ice 2X deeper*.
The blue marker in our Premium Ice Melter is even more visible than before, so you can more easily see where the product has been applied.
Protect your furry friends
Alaskan Pet Friendly Ice Melter is an effective product designed to be safe for pets. Developed in collaboration with a veterinarian, our new Pet Friendly Ice Melter formula is a blend containing calcium chloride, sodium chloride and a hydrating agent. It's totally safe for your pet's paws.
Effective down to -26 °C.